Road Trip Survival Guide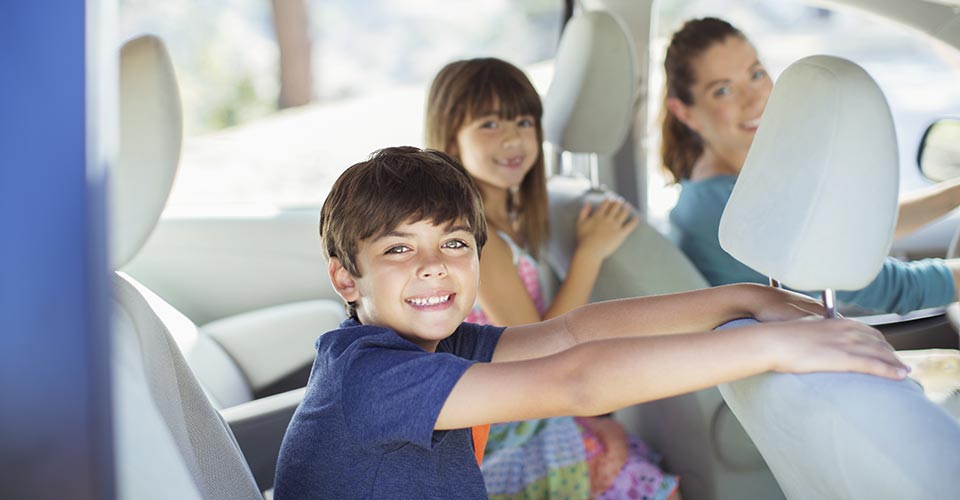 Yes, it's possible to get through a family road trip without the incessant "Are we there yet?" cacophony. Or stops every ten minutes for bathroom breaks. And of course, siblings fighting in the backseat. In fact, a road trip done right can actually be more fun than a long plane ride, where kids often have to sit still for a lot longer and can't leave the plane until the final destination. It just takes a little planning and ingenuity (great snacks don't hurt either). Whether your trip is three hours or 24, have a grab bag of ideas at the ready: car games, projects, activities, and the like!
Get the kids involved with the planning: Give each one a map with the route marked on it so they can track their progress. And plan your stops ahead of time so the kids know how long they have to hold on before the next break. We know you'll most likely have to pull over for "emergency" bathroom stops, but if you plan some fun detours along the way to your final destination, you'll help pass the time and have something to look forward to. Ask your Personal Assistant to help you plan your route; we'd be happy to find some kid-friendly pit stops.
Have your kids create a travel journal: Kids of all ages, from kindergarten through the teen years, will have fun with this! Younger kids can use crayons or markers to draw pictures about what they did each day; older kids can also pen descriptions of their adventures and snap their own photos with disposable cameras. Throw in a glue stick, and they can then paste all their tickets, photos, and other mementos into a scrapbook, creating a lasting record to cherish as they grow up
Stock up on audiobooks: You can find audio versions of all their favorite books and stories on either mobile devices or CDs. Older kids can listen to audio versions of assigned reading for school, while younger ones might go for the latest Harry Potter tome, or classics like Rudyard Kipling's "Just So Stories"
Create a scavenger hunt for the road: Here's a game for the little ones. Give each kid a list of items to look out for while you're driving. For city trips, your list might include a dog, a bus, a fire engine, a one-way street, and a license plate with the letter "Q." For trips to the country, you might have a barn, a cow, a pond, a weathervane, and a cornfield. The kids will love scoping out the items and checking them off their list
"A" is for Automobile: You can improvise this one as you go along. Each person in the car tries to be the first to spot and name three items beginning with a letter of the alphabet, starting with "A." For example, the first one to see and say "auto, apple, and archway" gets to choose the next letter
Fun with license plates: Have the kids see how many different states they can identify on license plates. Or challenge the kids to create a fun phrase based on the license-plate letters they see. For example, if you see a plate with "LGC•941," the first person to call out a logical phrase beginning with those letters, say "Let's go camping," wins a point
Bring plenty of healthy snacks: Whether it's baby carrots, nuts, grapes, or lots of bottled water, these will eliminate the need to stop for munchies, while also keeping the kids occupied and satisfied. As tempting as it may be to easily throw in some sugar-loaded pre-packaged junk food, don't. You'll thank yourself later when your kids aren't on a sugar high in the confines of your car.
So there you have it. Have any great tips of your own? We'd love to hear them! Share them by emailing us at info@TLFamilyClub.com.
Preview: Here's a taste of T+L Family Club's exclusive collection of benefits.