FruitBouquets.com - SAVE 20%
With a delicious assortment of fresh fruit arrangements and chocolate dipped fruits that are sure to deliver a smile, each arrangement from FruitBouquets.com is handcrafted with the utmost of care and freshest fruit to deliver a 100% smile guarantee. Their talented designers have been trained to make sure each fruit flower looks and tastes good enough to eat! Whether you're looking for birthday arrangements or to send a gift "just because," they offer the perfect gift for all occasions.
Exclusions apply, see Terms & Conditions for more details.
Offer Terms
Prices & Discounts are exclusive of applicable service and shipping charges and taxes. Items may vary and are subject to availability, delivery rules and times. Offers available online and by phone. Offers cannot be combined, are not available on all products and are subject to restrictions, limitations, and blackout periods. Prices and charges are subject to change without notice. Offer valid through 12/31/18. Void where prohibited.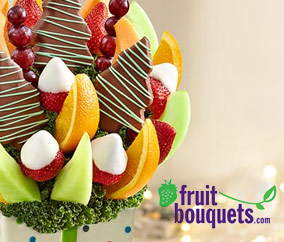 Price
Available to Members Only!
Already a Member? Sign in Now:
Not a Member Yet?
Get this amazing deal and so much more by becoming a member:
Join Now