Get your TSA Pre✓® Enrollment Voucher, an $85 value, for just $50
Wait 5 minutes or less!
96% of TSA Precheck Passengers waited 5 minutes or less in 2017.*
The TSA Pre✓® Enrollment Voucher entitles you to a one-time unique authorization code to use in lieu of payment for the application fee ($85 value) for your five-year TSA Pre✓® benefit. If approved by the TSA, you will enjoy an expedited security-screening experience that takes the stress out of travel with no need to remove shoes, laptops, liquids, belts or light jackets.
* Information from TSA.gov website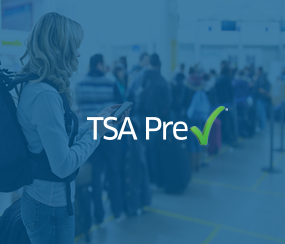 Price
Available to Members Only!
Already a Member? Sign in Now:
Preview: Here's a taste of T+L Family Club's exclusive collection of benefits.