Hyatt Chesapeake Bay Golf Resort, Spa & Marina
An extraordinary Eastern Shore experience awaits you at Hyatt Regency Chesapeake Bay Golf Resort, Spa and Marina. Beautifully situated on the banks of the Choptank River, our 400 acre resort in Cambridge, Maryland is a delightful location for meetings, family reunions or simply relaxing. Spend your days skydiving, hunting, hiking, sailing, fishing, discovering downtown Cambridge or searching for that perfect piece to add to your collection at local art galleries! Document your family and special moments with Laura's Focus Photography. This documentary style photography will capture priceless expressions and moments to remember forever.
Member Benefits
Bed & Breakfast Weekend Packages – 2 nights from $750 per room including daily breakfast in Waters Edge Grill along with late check out privileges - Book by 12/31/18
T+L Family Club members receive up to 5% cash back on your stay, complimentary wifi throughout your stay, a 1-category room upgrade upon check-in (based on availability) and dramatically reduced pricing for children in same room!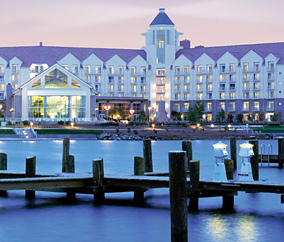 Price
Available to Members Only!
Already a Member? Sign in Now:
Not a Member Yet?
Get this amazing deal and so much more by becoming a member:
Join Now