La Jolla Cove Suites
La Jolla, CA
Sign your family up for breathtaking ocean views, beachside accommodations, and plenty of ocean activities at La Jolla Cove Suites. The surrounding areas of the charming San Diego community offer endless entertainment, including the seal-friendly Children's Pool Beach, the La Jolla Playhouse, snorkeling in the Pacific Ocean, SeaWorld theme park, and the famous San Diego Zoo.
T+L Family Club Benefits
Members receive up to 5% cash back off room rate after stay plus discounted tickets to the San Diego Zoo.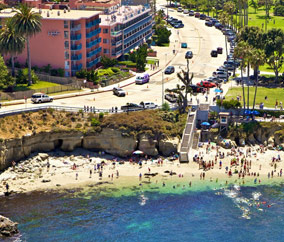 Price
Available to Members Only!
Already a Member? Sign in Now:
Preview: Here's a taste of T+L Family Club's exclusive collection of benefits.