Popular Gift Cards - 20% OFF + FREE SHIPPING!
Whether it's your favorite department store, clothing store, restaurant, or something else, we're sure to have it. Save 20% on gift cards to over 90 retail outlets and merchants. Share them with family, friends, and coworkers . . . or better yet, splurge on yourself!
Click the link to the right to browse our gift card selection.
Note to First Time Users: You'll need to register your account with our Discount Gift Card Center the first time you redeem this benefit. After that, simply use the Username and Password you created.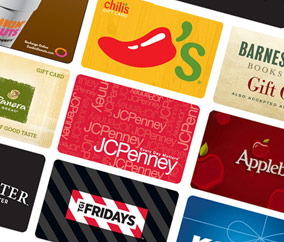 Price
Available to Members Only!
Already a Member? Sign in Now:
Preview: Here's a taste of T+L Family Club's exclusive collection of benefits.