The Manhattan
New York, NY
The Manhattan at Times Square Hotel effortlessly merges the 24/7 excitement of Times Square with the age-old glamour of New York. Delighting guests with its prime location and classic Art Deco detailing, this landmark hotel was built in 1962 during New York City's heady Mad Men era. Its commanding Seventh Avenue location a testament to both longevity and lavish attention to detail. While our enviable New York City location tops the list of preferred reasons to stay at The Manhattan at Times Square Hotel, we didn't stop there in our quest to make your New York stay with us as comfortable and convenient as it can be. Frequent travelers agree that one of the best ways to maximize your travel budget, minimize your travel time and get to see as much as possible is to choose a New York City hotel that puts you in the heart of the action, while providing guest services and great amenities that allow you to thoroughly relax and refresh. Located just two blocks from Rockefeller Center, four blocks from MoMA and just steps from the exciting Times Square and the Broadway Theater District, The Manhattan at Times Square Hotel pairs a great location with unmatched amenities and services.


T+L Family Club Benefits
Exclusive member rates start at just $318.50 per room, per night (based on double occupancy). Members will receive guaranteed early check-in, guaranteed late check-out, a one-category room upgrade (based on availability at the time of check-in), complimentary "Grab 'n' Go" Breakfast and 1 FREE "Big Apple" Gift Bag per room (a $20 value).
Offer Terms
Rates subject to availability and pricing at time of booking. Promotions and pricing are limited and may be changed or discontinued at any time. Certain restrictions may also apply. Although every effort is made to ensure the information contained here is correct, on occasion, typographical errors can occur, for which we are not responsible.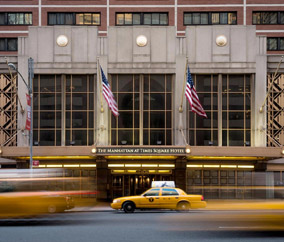 Price
Available to Members Only!
Already a Member? Sign in Now:
Not a Member Yet?
Get this amazing deal and so much more by becoming a member:
Join Now