U by Uniworld – "The Seine Experience"
NEW OFFER!
7 days down the Seine River round-trip from Paris to Honfleur, Vernon, Rouen, Conflans and Ste. Honorine. U by Uniworld is a new take on experiential travel, with cruises designed for those with a passion for exploring and a taste for authentic adventures. We at U have always believed that travel should be relaxing, exhilarating, convenient and tailored to your interests — all at the same time. And on a U by Uniworld river cruise, that's exactly what you'll experience. Our ships double as a social club and venue for meeting like-minded travelers onboard. They're decked out with a sleek design, contemporary flair, and tons of exciting elements and extras onboard. You'll have several daily options of activities, excursions and events to choose from, all tailored to your travel personality. Or do your own thing. It's all your call.
Member Benefits
Additional benefits include up to 10% additional savings, up to $100 per stateroom shipboard spending credit and free wifi while aboard ship!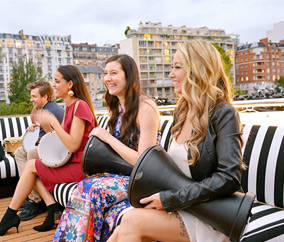 Price
Available to Members Only!
Already a Member? Sign in Now:
Preview: Here's a taste of T+L Family Club's exclusive collection of benefits.